Gandoca Manzanillo
Costa Rica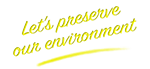 EL COLIBRI LODGE DE
MANZANIL S.A. © 2005

TIPS FOR YOUR VACATION
You will find various repellents in all businesses. It is not necessary to equip with the often costly "Special Tropic" before your departure. Let's cast out the aerosols (generatives of greenhouse effect).
RESTAURANTS CLOSE TO THE LODGE
From Puerto Viejo to Manzanillo, there are lot of restaurants on the roadside. Punta Uva and Manzanillo, villages located to 1,5 km to the Lodge, have some restaurants and "sodas" (establishments who do not market alcoholic drinks).
The Refugio Grill is a small
restaurant in a beautiful
setting located to only
800 meters to the Lodge
in direction to Punta Uva.
The owners are lovely and
their cooking delicious.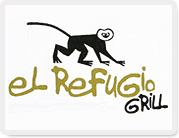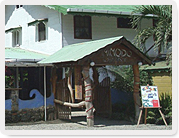 Our selection :
Fusion of mediterranean
and caribbean flavors,
without a doubt, Amimodo
is the best restaurant in
Puerto Viejo.

Let's reduce your wastes, separating glasses and plastics, some esta- blishments are careful to recycling, and let's give preference to purchase large bottles to the small. Let's bring back your batteries in your baggages (in Costa Rica, the wastes are buried).